Yoga & Ashram Life Options
A yoga ashram offering traditional aspects of yoga through wellbeing programs and accredited learning.
Visit the on line shop Rocklyn Ashram - gallery

Fees include food, standard accommodation and yoga classes
Special Opportunity: 2 months Yoga & Ashram Life
Any week, mid week or weekends throughout the year can be a Yoga & Ashram Life experience
Minimum 1 week Enrol
$125 per week - additional days to 1 or more weeks @ $20 per day
Camping less $5 per night
Arrival 2pm - Departure 2pm
Or mid week - minimum of 2 nights fully attended Enrol
Arrival 9am - Departure 2pm
Fee $35 per night - Camping less $5 per night

Weekends are to be attended in full from either Enrol
2pm Friday to 2pm Sunday or
8.30am Saturday to 2pm Sunday
Fee $35 per night - Camping less $5 per night
This option is not available from 9 - 11 March 2013 only

Check the different Seva Opportunities
If you are looking for a dynamic yogic lifestyle and a fresh look at life, join the Ashram Seva opportunity options with other likeminded yogis.
Two Seva opportunities that lead to a longer stay and higher level of involvement in the Ashram are heading the maintainence & kitchen departments.
Through the different Yoga & Ashram Life Options it is a window of opportunity to experience a yogic life as an ashram resident participating in the many different facets of ashram life, ashram discipline and mindfulness that totally supports personal understanding and expansion of ones self.
The ashram lifestyle program includes:
yoga asana classes,
meditation,
yoga nidra - relaxation,
chanting & havan,
yogic discussion,
personal time for walking, bike riding, study and connecting with the ashram community
Yoga & Ashram Life Daily Program (PDF ~14KB)
Please call Sw. Atmamuktananda 03 5345 7434 or email yogarock@satyananda.net
Ashram Lifestyle
The ashram lifestyle offers a wealth of opportunities to learn new skills, be fully involved in creative projects, sustainable gardening and building, kitchen and other ashram areas, community atmosphere and most of all a regular practice of all the branches of yoga - asana, pranayama, chanting, relaxation, mindfulness, the spirit of participation and full involvement known as karma yoga and meditation on a daily basis.

The daily program allows space and guidelines to enhance all the positive qualities of the whole being as well as providing tools to create new patterns of thought and personal expression.
"I feel very blessed to have been able to participate in the programs and to have found this valuable niche in our world." Marg
"I can take the principles of Karma Yoga such as equanimity, efficiency, non-attachment and ego-lessness into the more "mundane" tasks of my everyday reality and enjoy a greater sense of contentment and fulfilment." Adhyatma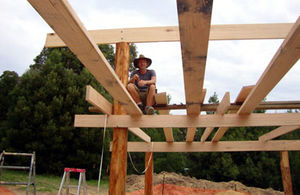 Yogadristhi Series
Heart, Heart & Hands
Swami Niranjanananda Saraswati
Creativity in action - focused heart, creative hands
After purity of heart has been attained, then the behaviour has to be fine-tuned to awaken the faculties of the hands. Hands mean action. They represent creativity: they are symbolic of efficiency, excellence and mindfulness in action.


Please note: if you are not able to arrive by the time specified an o/night residential fee applies
Private and twin share accommodation has additional costs
What to bring, Fees, Directions etc