Yoga & Practical Yoga Theory Retreats
The retreats with * are suitable for your first ashram experience.
"Overall it was very positive and informative. I appreciate the opportunity to have stayed in an Ashram." Nicole
A Yoga Gift Voucher is a wonderful gift for your yoga buddy or friend. To organise a gift voucher please either email us yogarock@satyananda.net or call reception 03 5345 7434
Arrival
Fri 2pm or before 5pm - Sun 2pm
Sat 9am - Sun 2pm
Day Option Sat 9am to 9pm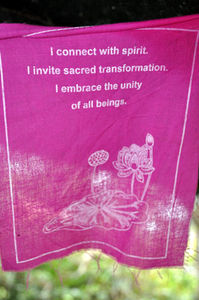 Arrival Time:
| | |
| --- | --- |
| Sat 3pm - Sun 2pm | $120 |
| Sat Only 3pm - 9pm | $45 |


9 - 9.30am Sunday
Discussion with Sw. Atmamuktananda on the Yoga Sutras as a mindfulness subject for the day.
A relaxed overnight stay: includes the many forms of Bhakti Yoga, havan & 2 hrs of Kirtans & the practice of seva - the flow of head, heart & hands. Cultivate the art of serve, love, give as an additional bhakti practice.
Havan is more than a fire ceremony with offerings cast into the flames and the chanting of sacred vedic chants. It is an ancient, global ritual found at the very base of all traditions.
The ancient purpose of Havan with Mantra is a scientific practice of purification with the sankalpa (resolve) for health, peace, plenty, prosperity, goodwill and protection for all environments.
Havan & Mantra act as a gateway from the ordinary to the higher levels of connectedness to nature and the consciousness. At the time of Swaha all that is no longer useful to our expansion of consciousness is symbolically offered to the fire for transformation.
The more people chanting mantras together the more sweet the inner and outer atmosphere becomes.
Kirtan is a part of Nada Yoga (the yoga of sound), in which you produce sound waves and follow them with your awareness. It can provide divine, ecstatic moods, as well as bring peace and focus to the wavering mind.
The Many Forms of Bhakti Yoga Timetable Weekend daily time table (22 ~KB)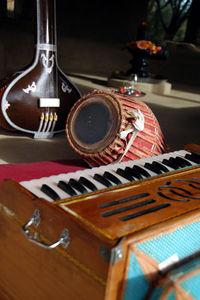 May
24 - 26 May $260 Enrol
25 - 26 May $190 Enrol
Saturday only 8.30am - 9.00pm 25 May $110 Enrol
Kirtan & Yoga Retreat (14 ~KB)
This Retreat is for both absolute beginners and those who are adepts at kirtan and want to go deeper into the art.
Whether or not you are a confident singer, there is a method to Kirtan as a form of energy work that needs to be uncovered. The quality of the voice is not as important as cultivating Bhav (feeling). We will lead you through techniques to build a strong voice, cultivate the inner feeling and connect with the group you are playing to.


Rev. Dr. John Dupuche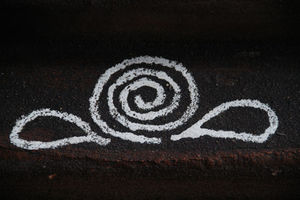 May
25 - 26 May $190 Enrol
Saturday Only 8.30am - 9.00pm 25 May $110 Enrol
Opening the arms, opening the mind'.
In what way do yoga, psychology, philosophy and religion complement each other? How can yogic practice be enhanced by the interchange?

These sessions will be led by Rev. Dr John Dupuche from MCD University of Divinity and the Centre for Interreligious Dialogue at ACU. His field of expertise is the tantra of Kashmir Shaivism.
June
01 - 02 June $190 Enrol
Day Option Sat 01 - 9am - 9pm $110 Enrol
Although this retreat is only 1 overnight just this much time is perfect for switching off the mobile and the mind from the norm.
Yoga, Relax, Recharge retreats allow space and time to deeply relax into the quietness and stillness of the ashram forest environment.
Walking in winter is stimulating and returning to a warm environment is nurturing and relaxing.
During the weekend theory and practices on yoga nidra and other methods of yoga relaxation expand ones knowledge on how to integrate yoga relaxation in to life – even in the office.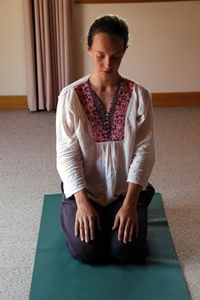 June
14 - 16 Jun $260 Enrol
15 - 16 Jun $190 Enrol
Day Option Sat 15 - 9am - 9pm $110 Enrol
Helpful Yoga for Community Carers is a weekend retreat for all who work tirelessly within the community for others. You may be an emergency services worker,a teacher, health professional, police man or woman, paramedics or a carer to a loved one, this retreat is a rare opportunity, to take the time out to care for yourself.
Practical yoga sessions including relaxation techniques will help create a special and nurturing environment for you to rejuvenate your mind, body, emotions.
You will have the opportunity to learn helpful yoga practices that you can integrate into your everyday life that will assist in maintaining a balance between your role as a carer and your own health and wellbeing.
June
21 - 23 Jun $260 Enrol
22 - 23 Jun $190 Enrol
Saturday Only 22 Jun 9am - 9pm $110 Enrol
Co -facilitators are Ross Drake and Sri Ram
Rediscover your story, redefine your perspective and reclaim your true purpose.
Exploring the wisdom of Yoga, Tantra, 5 Aggregrates of Tibetan Buddhism, Storytelling and other Creative arts you will delve into the depths of what it is to be an authentic, conscious man.
Among a supportive and empowering circle of men know that you are Shiva.

link|../retreats/weekend_retreats|Ashram Winter Retreat - nurtured by nature in winter]Enrol *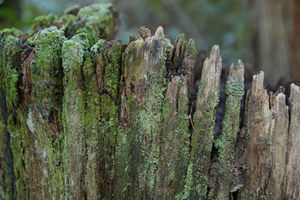 July
26 - 28 Jul $260 Enrol
27 - 28 Jul $190 Enrol
Day Option Sat 27 - 9am - 9pm $110 Enrol
Rug up in winter and enjoy the elements and the Wombat State Forest in winter.
The forest is full of subtle wonders of bright green to yellow mosses, funguses of bright orange and purples and other delights of winter like the red breasted robin.
Combine yoga, relaxation and meditation with the yoga of conscious walking. Be the creative expanded conscious walker, photographer or nature lover.
The practice room is wood fire heated and provides a cosy place to return to.
August
02 - 04 Aug $260 Enrol
03 - 04 Aug $190 Enrol
Day Option Sat 03 - 9am - 9pm $110 Enrol
This weekend explores the Sri Yantra design, Its geometrical form, symbology and specific mantras
Sri Yantra (300 ~KB)


The Sri Yantra can be considered as a place of spiritual pilgrimage. It is a representation of the cosmos at the macrocosmic level and of the human body at the microcosmic level (with each of the circuits corresponding to a chakra of the body).
Literally, a configuration of nine interlocking triangles, surrounded by two circles of lotus petals with the whole encased within a gated frame, called the "earth citadel". The nine interlocking triangles are centred around the bindu (the central point of the yantra). They are drawn by the superimposition of five downward pointing triangles, representing Shakti; the female principle and four upright triangles, representing Shiva; the male principle. The nine interlocking triangles form forty three small triangles each housing a presiding deity associated with particular aspects
of existence.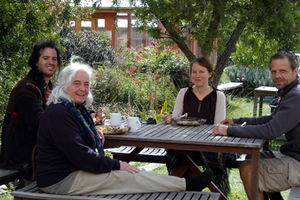 August
09 - 11 Aug $260 Enrol
10 - 11 Aug $190 Enrol
Day Option Sat 10 - 9am - 9pm $110 Enrol
About the Teacher: Sri Ram (David Tries) is an Affiliated and Accredited Satyananda Yoga (TM) teacher, and a provisionally registered psychologist who works with individuals, couples, and families within the St.Luke's Anglicare Gambler's Help Program.

Relating with our-self, others, and the world around us can be fraught with difficulty. We want to grow, connect, commit, love. But we may get stuck, forget, and have conflict. Sometimes our relationships fail or we feel uncertain.
Yoga offers a proven method for connecting with the inner world but many view it as 'self-ish' and without benefit to external relationships. This is incorrect. Psychological research suggests that what makes relationships succeed and fail is quite consistent with Yoga. And awareness is the key.
This retreat is a foundation for improving relationships using psychological theory and practice, and mindfulness and yoga. Combined, there is immense power to promote self understanding and acceptance. The natural result is a better quality of relationship, with our self, and others.
When we practice conscious relationships, we must work with our self and others. This is not just a solo retreat. But you can attend by yourself. Join us and experience the benefits of being more conscious in your relationships.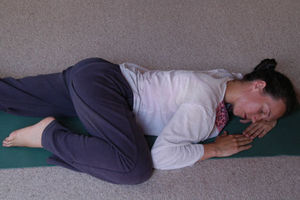 August
16 - 18 Aug $260 Enrol
17 - 18 Aug $190 Enrol
Day Option Sat 17 9am - 9pm $110 Enrol
Facilitator
Philip Stevens (Swami Samnyasananda) BSc (Psych, Physiol) BSc (hons) (Physiol) MWSCY, FWSCY.
Consultant Neurophysiologist; Certified Yoga Teacher, Life Member and Fellow of the "World Society For Clinical Yoga" (Lucknow, India); Meditation, Relaxation and Stress Management for busy people (M.B.T.I. Accredited); Clinical Training in Mind-Body Medicine from Harvard Medical School, Boston, USA. Currently teaching and tutoring at Monash Medical School (Dept of General Practice).
Helpful Yoga Practices for Stress Management (95 ~KB)
The Stress-Response is hard-wired & automatic (autonomic). Stress breeds stress like rabbits breed rabbits. Meditative and breathing techniques for developing and becoming familiar with the Relaxation-Response must be learned and practiced to have effect. Relaxation CDs are an eXcellent and easy introduction to the deep relaxation technique of Yoga Nidra, which combines body position, breathing & sensory withdrawal techniques in a synergistic, easy to do meditation that anyone can do in 10-30 minutes.
All the practices in this seminar are suitable for beginners. You will have time to ask questions and to practise the techniques then do them at home.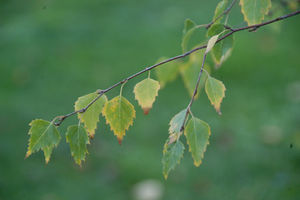 August
24 - 25 Aug $190 Enrol
Day Option Sat 24 9am - 9pm $110 Enrol
Theory and practice sessions will focus on making the most of conscious time out, simple relaxation postures, yoga nidra - deep relaxation and the breath.
A regular practice of relaxation including yoga nidra will open your mind to a whole new vision of health and life.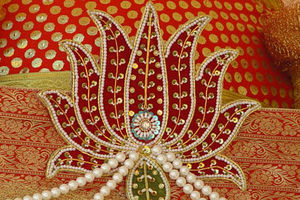 September
13 - 15 Sep $260 Enrol
14 - 15 Sep $190 Enrol
Day Option Sat 14 - 9am - 9pm $110 Enrol
Both Yoga & poetry are based on the tenets of Satyam, Shivam & Sundaram to glorify the natural and divinise the mundane. They are associated with change, (r)evolution and our internal yearning for freedom.
Through rhythm, language and bhava they directly access and connect to the intuitive mind and heart to express intimate experiences of the external and internal in a rich & wondrous manner.
This retreat will explore how poetry and yoga can break down old ways of viewing the world through innovative asana, pranayama, meditation, improvisation, classic yogic, tantric and literary texts and creative mind and heartscape practices. Slowly one's lips will sound the fragrant words of Saraswati.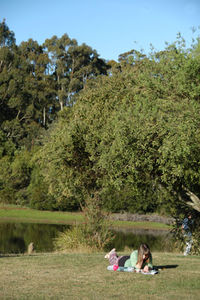 September
14 - 15 Sept $190 Enrol
Day Option Sat 14 9am - 9pm $110 Enrol
We all wish to have time and space to truly let go. And in fact many things we choose to do in the search for relaxation can place more stress on an already overload nervous system.
Whilst they may seem pleasurable, they are not providing the necessary deep, restorative rest that the body, mind and emotions need.
Attending a weekend of Yoga Relax at the ashram allows one to step into a different time zone unaffected by worldly stimulation and obligations.
Let go for a few days and create a space of rest and relaxation for yourself supported by a simple routine of yoga postures and daily yoga nidra – guided deep relaxation.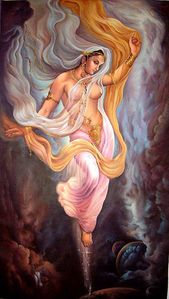 October
11 - 13 Oct $260 Enrol
12 - 13 Oct $190 Enrol
Saturday Day Only 12 Oct $110 Enrol
The Sacred Feminine - Devi Shakti is consciously placed during the Navaratri 9 nights of Devi Celebrations.
The atmosphere is already charged with blessings of graciousness and benevolence of the divine will of Devi Shakti.
Practices during the weekend will include yoga practices of asana, breath expansion, meditation, chanting, daily havan and discussion on tradition and how to nurture The Sacred Feminine Shakti through daily experiences in life.
Sw. Atmamuktananda will lead the discussion sessions and present at all the chanting sessions to shed light on the tradition and meaning of chanting as an invocation to develop the qualities that align one to their knowledge of Shakti.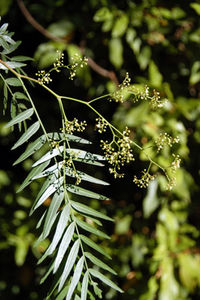 November
09 - 10 Nov $190 Enrol
Day Option Sat 09 Nov 9am - 9pm $110 Enrol
Take time out to notice what is happening around you. Make this weekend a yoga and nature experience in the elegant simplicity environment of a Forest Ashram.
Coupled with a comprehensive yoga program focusing on mindful relaxation will be guided walks in the wondrous Wombat State Forest.
Nature has the ability to slow us down to being more present with the tallest trees, the smallest grasses, the sounds of birds singing their songs, ducks wings swishing through the air and the soft footed kangaroos almost silently moving on the grassy land.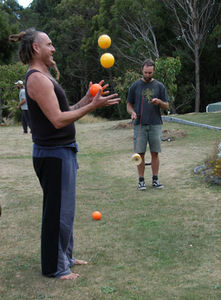 November
Managing Anxiety/Depression with the Help of Yoga
22 - 24 Nov $280 Enrol
23 - 24 Nov $210 Enrol
Day Option Sat 23 Nov 9am - 9pm $120 Enrol
About the Teaher: Rishi Vivekananda
The yogic techniques taught on this weekend will be helpful for the individual and for those engaged in the healthy industry.
Most people become anxious at times and 'down in the dumps' at others, but is that abnormal?
What is abnormal? In this seminar (lecture) Dr Rishi Vivekananda, a psychiatrist of over 41 years experience, and yoga teacher of more than 30 years, will answer these questions.
He will deal with the more specific principles of anxiety and depressive responses to external and internal factors. Then he will describe their symptoms, and the therapies and yoga practices that are best for their management.
He will teach some brief intervention techniques – yoga practices (some of the not obvious to external observers) by which we can reduce the immediate experience of anxiety or depression.
In a seminar we will learn these and also a personal sadhana by which we can bring ourselves out of the vicious circles of fear, anger or dejection.
November
29 Nov - 1 Dec $260 Enrol
30 Nov - 1 Dec $190 Enrol
Day Option Sat 30 Nov 9am - 9pm $110 Enrol
When the mind is less affected by external conditions, it is connected with the vibratory body.
From a yogic perspective there are 5 subtle bodies. These subtle bodies are known as the koshas. Each kosha can be harmonised and balanced by the use of mantra. However, the koshas relating more specifically to the mind are known as Manamaya Kosha and Vijnamaya Kosha.
The yoga program will use postures and mantra to liberate energy on the physical level, mantra chanting and meditation to expand the dimension of mind and consciousness.
Text used discussion: Mantra & Yantra – Sw. Niranjanananda Saraswati & Vijnamaya Kosha – Sw. Satsangi Saraswati