Weekend Retreats
Visit the on line shop Rocklyn Ashram - gallery
Exploring the yogas as a way of life

1 night Sat 9.30am – Sun 2pm $180 2013 $190
2 nights Fri 2pm – Sun 2pm $250 2013 $260
Day Option Sat 9.30am - 8.30pm $100 2013 $110
Fees include all food, standard accommodation and course yoga classes
You are welcome to arrive any time after 2pm to relax and settle into your room before meditation/havan (fire ceremony) at 5.30pm and dinner at 6.30pm.
Day Option
The Day Option provides a full day of yoga practices on and off the mat which include:



9.30am Mid Morning Theory Session
11.00 Morning & Afternoon Tea
11.30 Relaxation - Yoga Nidra
12.00 Vegetarian Lunch
3.30pm Yoga Posture Class
5.30 Healing Mantra Chanting and Havan (physical fire an aspect of esoteric yoga practices)6.30 Dinner & Evening program of chanting - kirtan and satsang - discussion
Each weekend follows a daily yoga program plus discussion on the unique theme and applied yogic philosophy chosen for the weekend.

Satyananda Yoga is an integral practical system of yoga available and accessible to all. The practices harmonize and balance the entire personality, increase vital pranic wellness, mental relaxation, self understanding and inner peace. Asana - postures, pranayama - breathing techniques, yoga nidra - the delicious practice of deep relaxation and meditation are presented along with stimulating and interesting yogic philosophy concepts to deepen understanding for the practitioner and to awaken the potential of yoga and wellness for the beginner. Take with you a set of useful yoga practices for your personal needs.

"I enjoyed my stay very much - the environment, the routine, the food, the yoga practices." John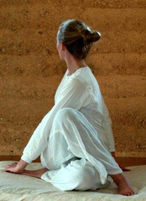 Are you thinking about starting a home practice? A little yoga on a regular basis makes a profound different to our personal state of wellness and our perception of ourselves in the world.
Where to begin. During your stay you may like to take advantage of a private session with an experienced yoga teacher. Enquiries and bookings are made at reception.
Please make your booking at least 2 days prior to the commencement of the retreat.

Private and twin share accommodation has additional costs.
What to bring, Fees, Directions etc
Weekend Yoga Retreat Daily Program (PDF ~14KB) This timetable can be subject to slight changes