Sunday Yoga Workshops
The Ashram is distinguished by its tranquil setting nestled within the depths and silence of the Wombat State Forest 15mins from Daylesford or just 1.15hrs from Melbourne.
A Taste of Yoga: If you wish to enjoy a Sunday afternoon of yoga or a stop off at the Ashram after your weekend in Daylesford take the opportunity to explore the Yoga: Tools for Life Series.
Yoga: Tools for Life Series
Option 1:
Sundays 2.30pm – 4.00pm Fee $40
Yoga Tools for Life Series Timetable
You may like to arrive a little earlier to explore the forest surroundings where native animals, birds and flora abound. The ashram setting is tranquil and peaceful - you will feel much refreshed from this experience.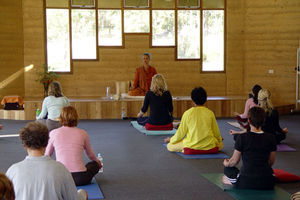 Workshops will include the following topics:
- Branches of Yoga - Yoga Sutras of Patanjali
- Mantra
- Nada - music
- Asana
- Sadhana - establishing a home practice
- Pranayama
- Yoga Philosophy
- Mindfulness - skillful action in every day life
- Meditation - Raj Yoga
Benefits:
You will be provided with a handout summarising the topic to be discussed.
The workshops include explanation of the chosen yogic topic, experience of the practice and time for Q & A.
This is a unique opportunity to learn more about each topic in a structured format that you can collect as a series of yoga practices or just attend whichever topic is of interest.
These short practical sessions will whet your appetite to explore more about yoga and establish yourself in a regular practice for profound wellness.
Yoga: Tools for Life Series
Option 2:
Sundays 10.30am – 4.00pm Fee $60 (includes Yoga Nidra & Lunch
Yoga Tools for Life Series Timetable
Come experience the essence that has been created in this special place of balance and harmony.
Settle into the environment with a cup of tea at 11am
11.30 guided relaxation/meditation suitable for all to harmonise you into the space.
12.00 noon Join in the acceptance of PRASAD 'joy' expressed through the giving of lunch followed by time to experience the ashram grounds and connection with nature.
Tea at 2.00pm followed by a 2:30- 4pm session on the days topic. Discourse and meditational experience.
Benefits:
In addition to the above benefits outlined for Option 1, consciously take time out to experience a full day's package of wind-down time for total relaxation and separation from the world.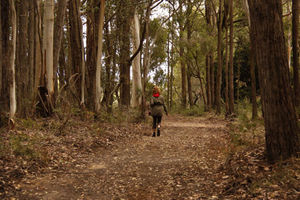 Bring your walking shoes or bicycle and explore the many tracks in the magical Wombat Forest environment surrounding the Ashram.
It's a great opportunity to gain more practical knowledge of yoga.
Return home refreshed and revitalized from your time in nature and from the yoga experience.